Gallery Night & Raku at Cream City Clay – Spring 2020
April 19, 2021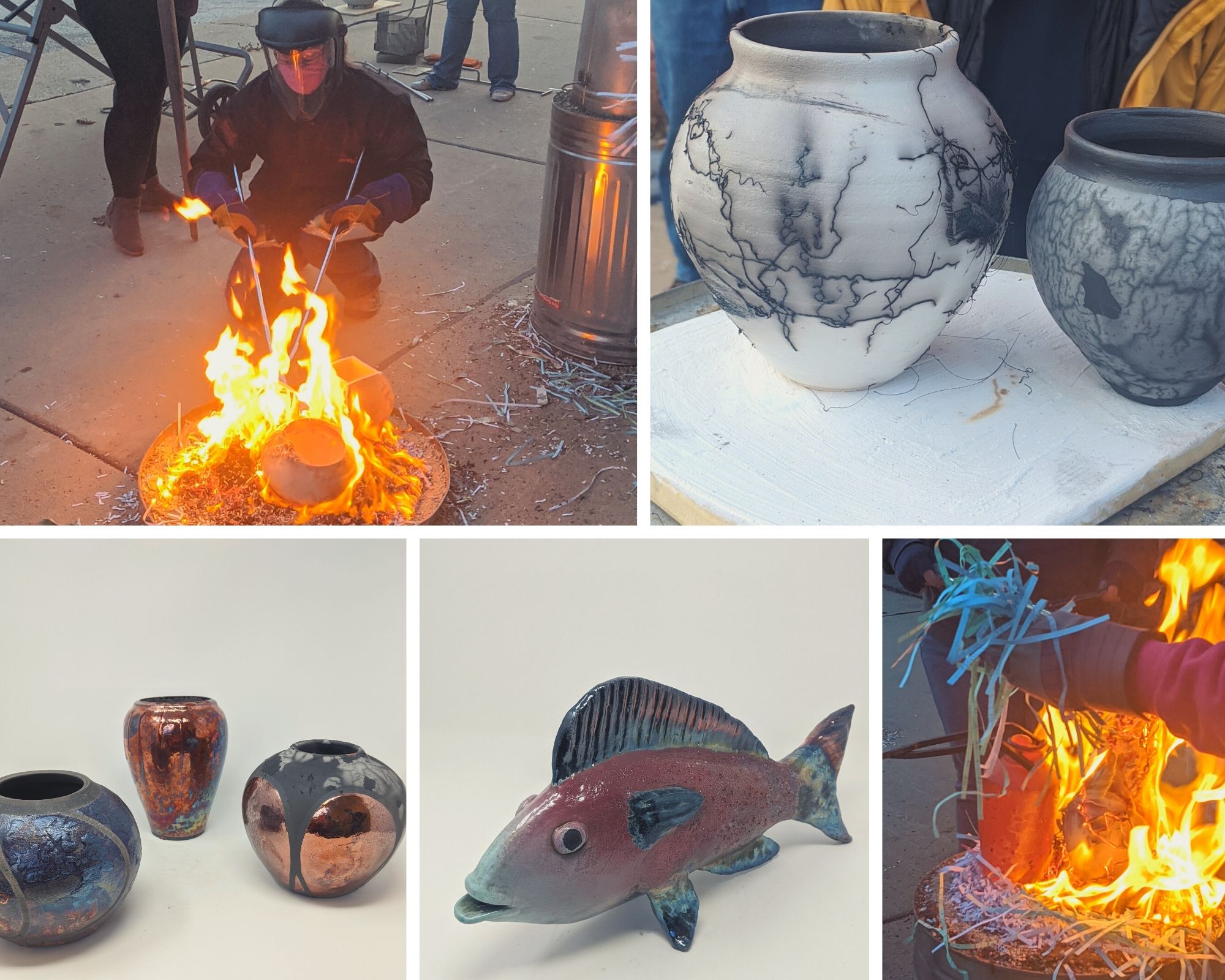 Gallery Night & Raku Workshop
Join us on May 21 or 22 for our spring Gallery Night and Day.  Our gallery will be open for viewing and purchasing our members creations,  May 21 (Friday), 5-9 pm and May 22 (Saturday) 10am -4pm. A feature of our Gallery Night and Day will be a Raku firing in the alley behind the Studio/gallery.  Rain/wind date May 23 (Sunday) 10am-4pm. (Masks are required to enter the gallery and participate in the firing.)
If you are a potter interested in firing Raku, then join us for a three session class to learn how to create Raku pieces.  Bring your ideas and creativity! Make wall art, tiles, animal sculpture, figures, planters, decorative vases, bottles, boxes, dishes, or candle holders. Those with experience may work independen10tly and those that are new to clay will be taught soft slab construction and the pinch method to create their pieces. Raku pottery is for decorative purposes only. It will not hold water and is not food safe.
In this three day workshop you will:
First class you will receive 12 lbs of clay: We will instruct you how to use the soft slab technique, and pinch method to create your pieces. You will also have the following week to work independently to finish your pieces if needed. It will give you time to dry your work and have it bisque fired before the second class, or simply dried if using terra sigillata / burnishing.

Second class

. Learn about the various types of surface design possible with Raku firing. Types discussed will include various glazes, tape resist, wax resist, terra sigillata & burnshing, horsehair technique, and naked slip. We will cover a discussion of the history of raku.
Third class. Fire pottery. Sign up for a day and shift. Come prepared * and plan to participate in set up or take down. Plan to spend more time than expected.
Ticket price is $129 and includes clay glazes and firing.  Member fee is $116.  
Class fee in non-refundable 13 days or less before class begins.