Adult Pottery Classes & Workshops
Cream City Clay offers wheel throwing and hand building (an ancient technique of creating forms without a wheel using hands, fingers and tools) for the beginner to the most advanced.
Wheel classes include teen wheel, wheel I and wheel II, and couples night out. Hand building classes may include coil building, pinch pots, slab building, mosaics, jewelry making, figurines or tile making.
All Materials are included unless otherwise noted.
Classes are available for all levels of pottery skills.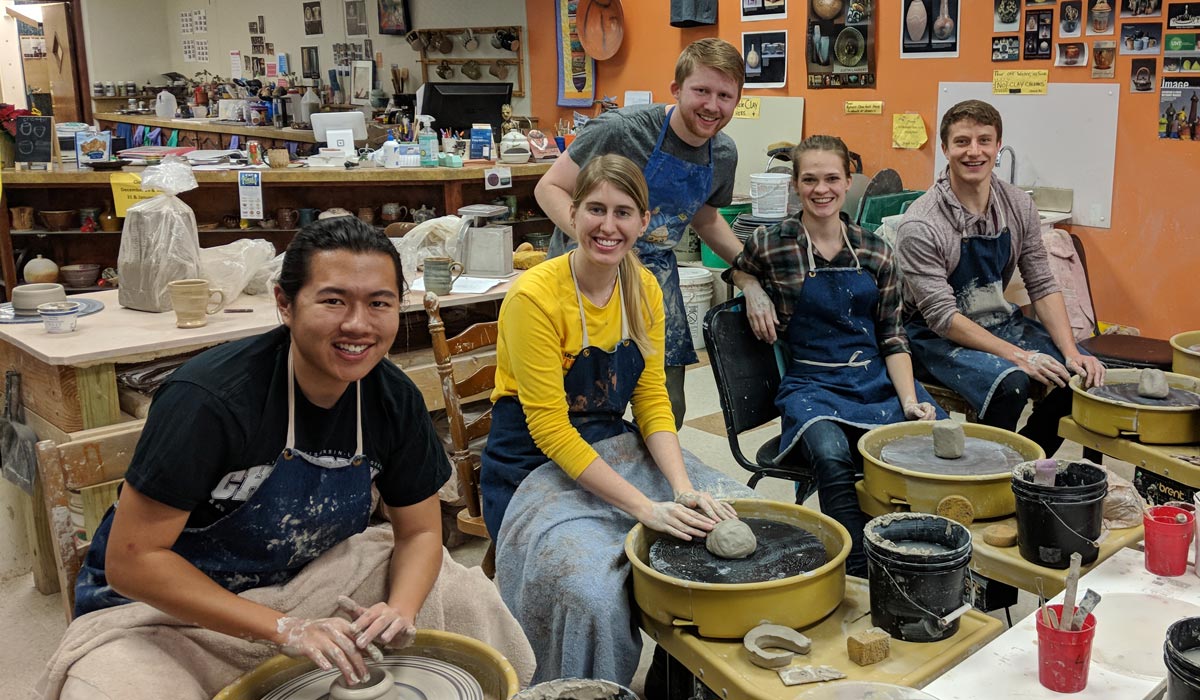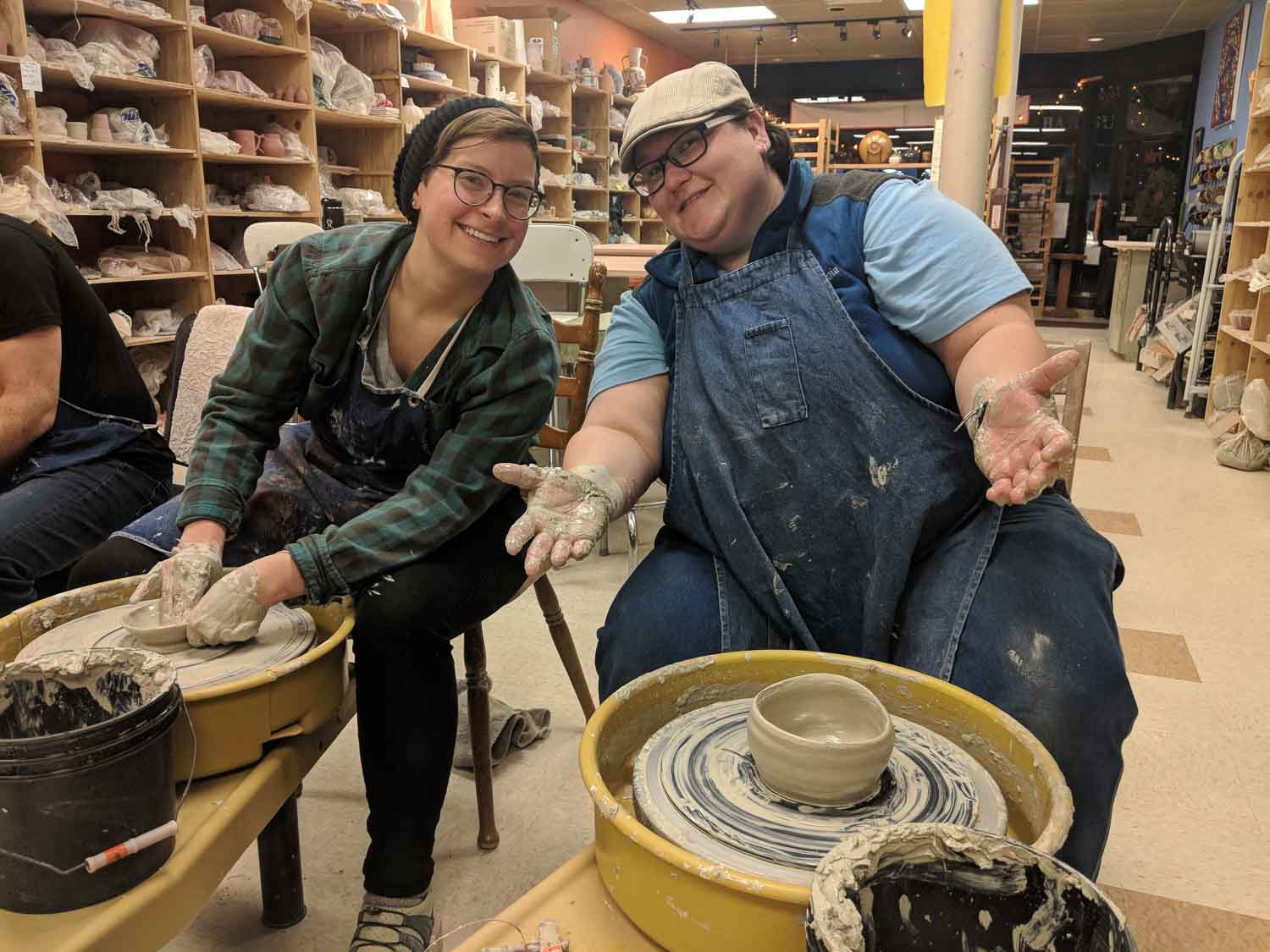 Adult Pottery Wheel 1
Learn the basics of throwing on a potter's wheel in a fun and friendly atmosphere. No previous clay or art experience necessary. Class size is limited to ensure personal attention.
Clay is an excellent stress reliever – come and get your hands messy!
Level: Beginner
Thursday Mornings
Dates: 10/24/2019 – 12/12/2019
Time: 9:30 AM – 12:00 PM
Fee: $235.00
Thursday Evenings
Dates: 10/31/2019 – 12/19/2019
Time: 6:30 PM – 9:00 PM
Fee: $235.00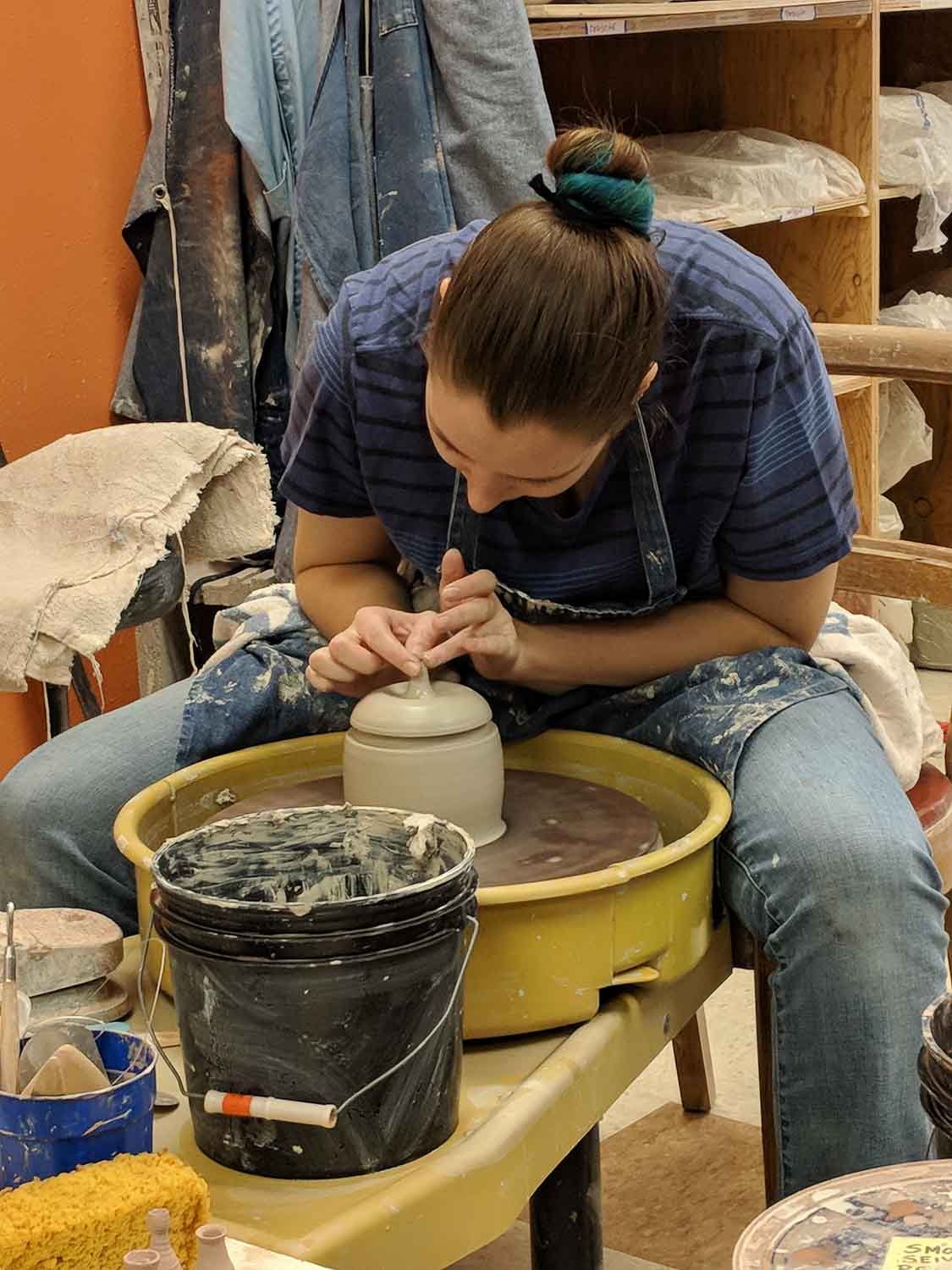 Adult Pottery Wheel II
This is a great class for those who can wedge and center clay, and have had at least one class on the potter's wheel. Create pouring vessels, plates and cups with handles. Students will gain a wide variety of experience.
Level: Intermediate
Monday Evenings
Dates: 10/28/2019 – 12/9/2019
Time: 6:30 PM – 9:00 PM
Fee: $235.00
Tuesday Mornings
Dates: 10/29/2019 – 12/10/2019
Time: 9:30 AM – 12:00 PM
Fee: $235.00
Wednesday Evenings
Dates: 10/30/2019 – 12/18/2019
No Class 11/27
Time: 6:30 PM – 9:00 PM
Fee: $235.00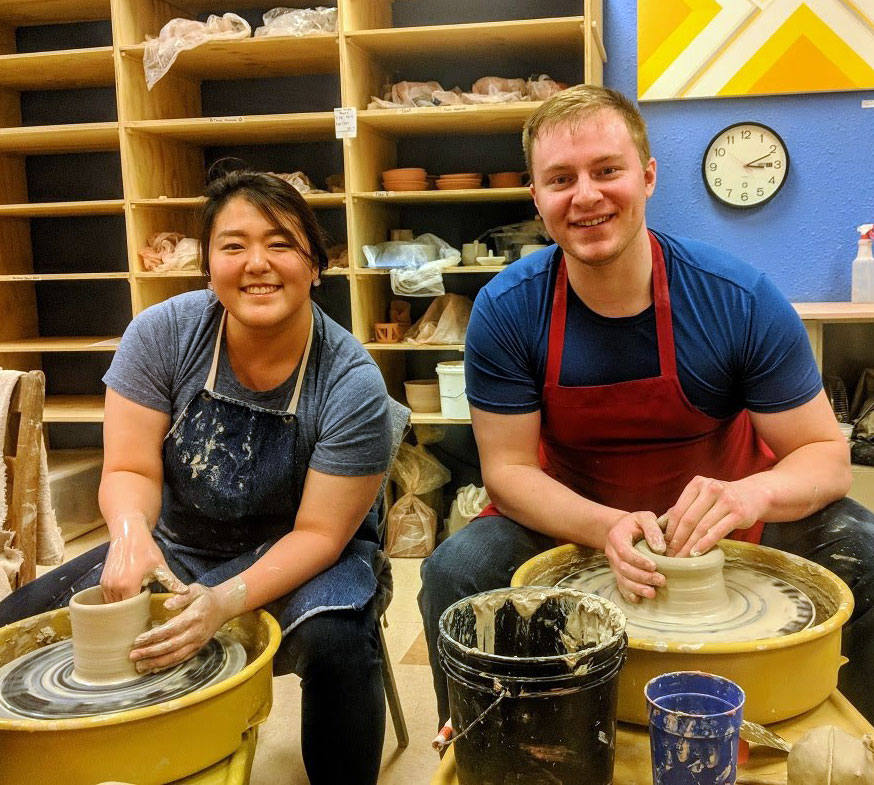 Couples Night Out
Have a hands on clay experience with your favorite someone or best pal. Cherish the memories each time you use your handmade pottery at home.
One registration includes both people and all materials needed.  Pottery can be picked up 3 weeks later and a call/email will be sent to notify you when it's ready. Friday Nights @ 6:30-9pm (Please arrive 10 min early)
Level: Beginner
Friday, October 25th
Date: 10/25/2019 (one evening)
Time: 6:30 PM – 9:00 PM
Fee: $84.00
Friday, November 8th
Date: 11/8/2019 (one evening)
Time: 6:30 PM – 9:00 PM
Fee: $84.00
Friday, Nov. 22nd
Date: 11/22/2019 (one evening)
Time: 6:30 PM – 9:00 PM
Fee: $84.00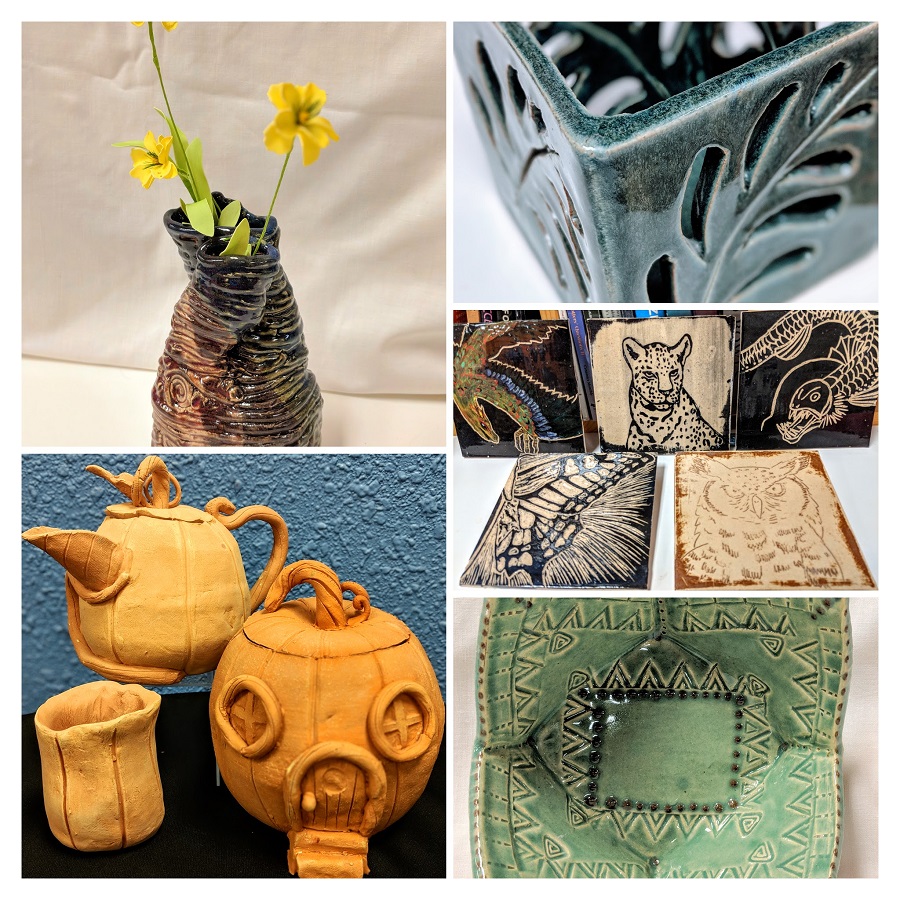 Handbuilding I & II
Intro to clay – Concepts & Design
Learn the basics of hand building with coils, hard & soft slab construction and pinch pots. Investigate sculpture and tile making.
This class will adapt to meet your level.  Choose a method of hand-building you really love and stretch what you can do with it. Create multiple forms that can work together like tessellations or stand on their own. Make functional objects or purely artistic work.  Incorporate mixed materials; found objects like glass, wood or metal.  Students will be encouraged to look at contemporary ceramics as well as ancient artifacts to find inspirations for their projects.  Learn new building techniques and surface design.
Instructor: Colleen Volland

Level:  Beginning to Intermediate
Wednesday Evenings
Dates: 10/30/2019 – 12/11/2019
Time: 6:00 PM – 8:30 PM
Fee: $199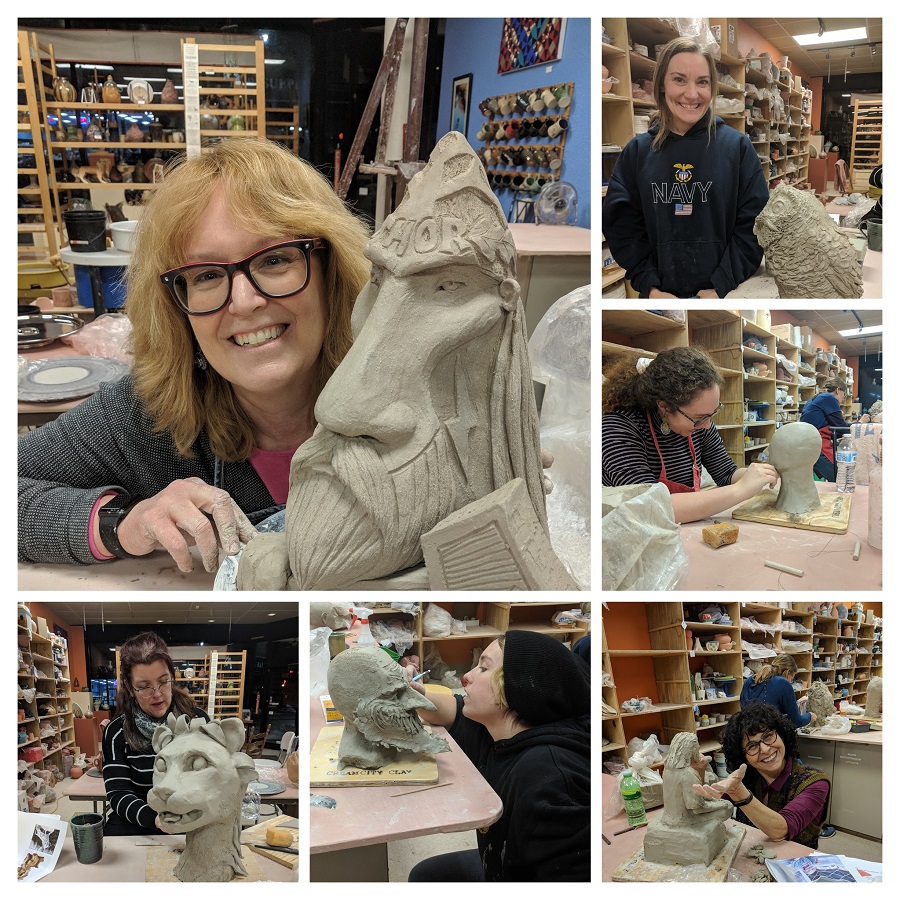 Faces Figures & Fauna
CSculpt a human or animal likeness in clay. Using an armature begin with the bone structure and add muscles, skin and texture. Great opportunity to learn about anatomy and correct proportions. Then learn how to exaggerate certain features to emphasize your own style (silly & character like or realistic and serious!). Sculptures will be hollowed out, dried slowly over 3 weeks and bisque fired. The final class will cover finishing techniques. Students will need to bring their own brushes and paints to the last class. All other materials will be provided.
Level: Beginner
4 Wednesdays & 1 Saturday
Wednesdays: 1/8/20-1/29/20 6-9pm &
Saturday: 3/7/20 3pm-5pm
Fee: $165 non members
40% discount Members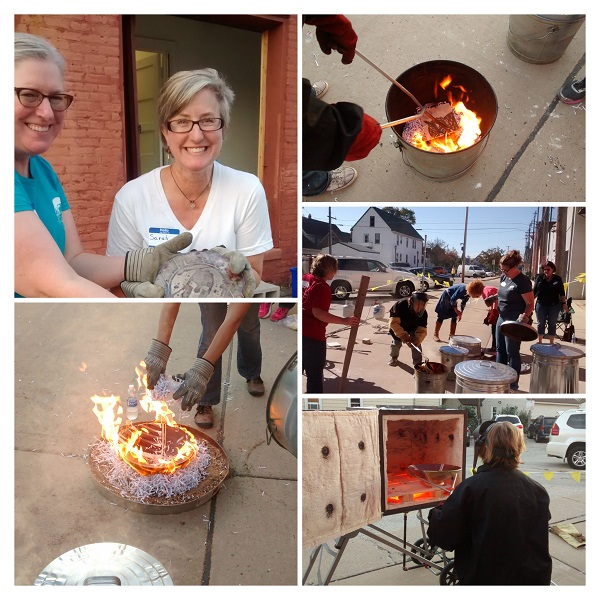 Raku Workshop
Great opportunity for current students, members & outside artist to try a new glazing and firing technique. Students currently enrolled in a class get 5lbs of clay + glaze workshop for $75 Additional 6lbs of clay is $40.
1.Make pots on your own and we will bisque fire them for you. (Bone dry work must be on shelf by Oct 15th.)
Note* pottery to be fired with horse hair can be covered with terra sig. (a fine slip that is burnished for a glossy surface) Please label any pottery intended for this technique.
2.Bring bisque fired pots ready to glaze October 15th 2pm for the workshop which will cover the history of Raku, glaze application, and instruction on the Raku process.  
Firing  Oct 18th 5pm-9pm with overflow Oct 19th 10-5pm
*Must sign waiver and wear long pants and closed toed shoes appropriate for working with the flames.
Level: Beginner-Advanced (Accessible to all levels)

2 Fridays
Dates: October 15th 2-3pm & October 18th 5-9
Fee: $75 for 6 lbs of clay and Workshop
Additional 6 lbs of clay available for $40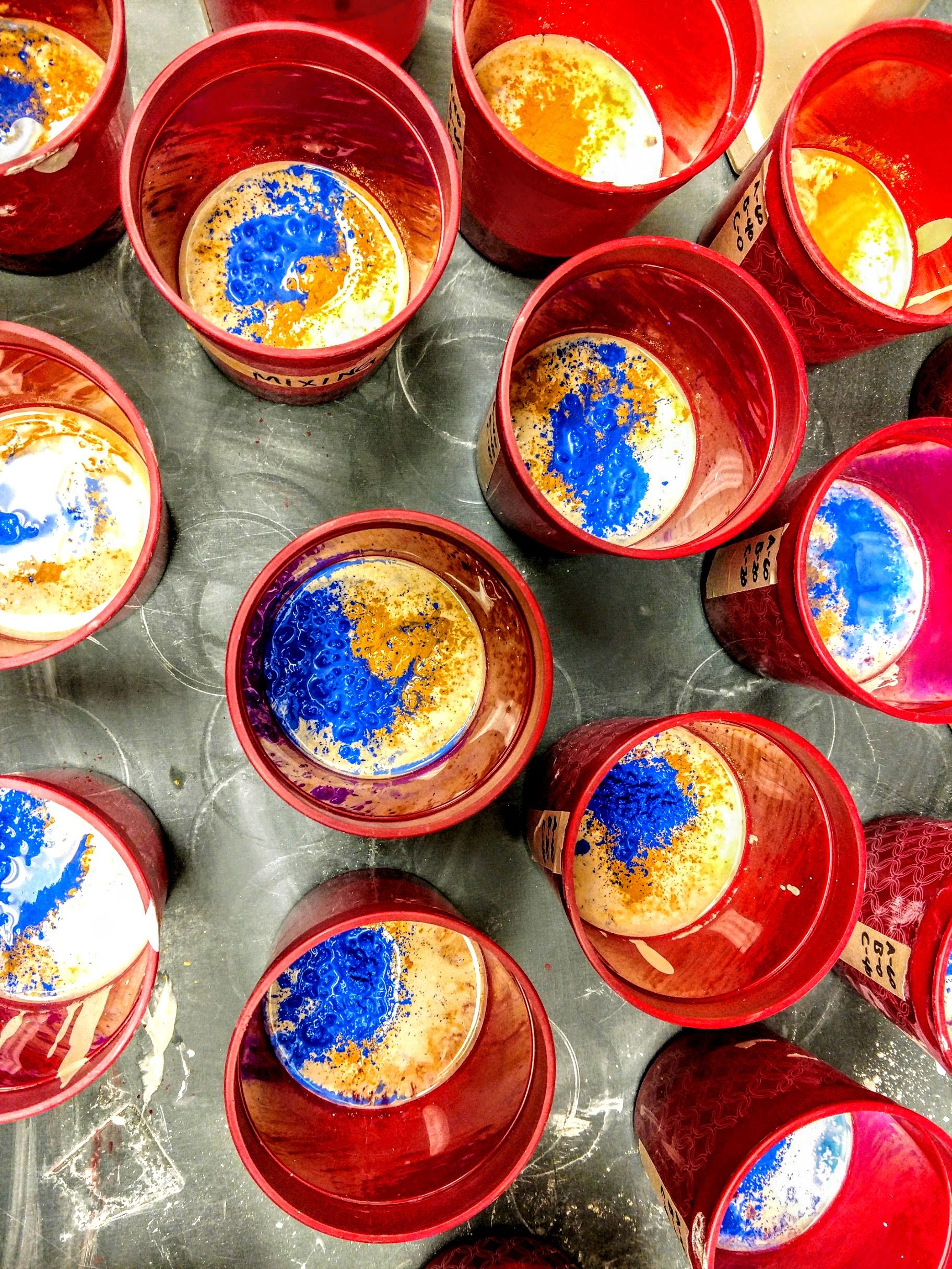 Glaze Mixing Workshop
Student will learn about the basic parts of a glaze:  Glass former, flux, stabilizer and colorants.  Learn methods to correct for glaze flaws, change colors and howto develop their own glaze pallet including a tri-axial blend.  Inst Andrew Linderman 
Level: Beginner-Advanced (Accessable to all levels)

4 Thurdays
Dates: 10/24/19-11/21/19
Time: 6-9pm
Fee: $250 non members
$225 Members
View All Classes By Semester & Register