Pottery School & Studio
Serving Metro Milwaukee
We will adhere to the CDC guidelines for mask wearing for our area -When transmission rates are high we will ask you to wear a mask and distance. 
Members and Students who wish to work outside of class can signup for a timeslot.
Call and we will send you the link.
Thank you all for your patience and words of encouragement as we find creative ways to bring clay to you. Artists somehow find the bright spots – Love one another & Keep making pots!
Learn More
View Classes
 Hours: Tues-Thurs 10am-9pm, Friday & Sat 10-3pm
Classes & Workshops
Our studio offers students, teachers and studio artists the opportunity to grow artistically, wherever they're starting from. We provide excellent instruction, mentoring and quality equipment in a professional working environment.
Studio Memberships
Cream City Clay offers a beautiful studio, quality equipment and a contagious creative environment to create ceramic art, pottery and sculpture. Learn more about joining our creative community!
Our Mission
Cream City Clay is a learning center for the advancement of ceramic art and design. We're a positive creative community committed to encouraging each other & promoting excellence. 
Cream City Clay is happy to invite you to the opening show of the our new gallery space.   Join us for the our opening night reception November 4th from 6-8 pm.  Our featured artsists are June Vaughn, Jeff Shawhan and Michael Imes.Join Our Creative Community!
read more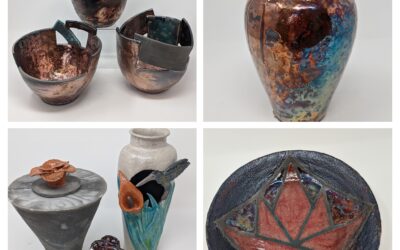 Raku workshop and firing Raku workshop $109: Sign up in person (not online)  Pick up 12 lbs of clay to make projects on your own.  Put pots ready to bisque on the cart no later than Oct 15.  Glaze day will be Thursday October 20 6:30 - 9:00 pm. Clay only: Cost is...
read more
| Event | Date | |
| --- | --- | --- |
| Make Ornaments at Home | December 1, 2022 10:00 am | Register |
| Couples Night Out 12/2/22 (Wheel) | | Sold Out |
| Couples Night Out 12/2/22 (Hand Building) | | Register |
| Cookies & Milk for Santa 12/3/22 | | Register |
| Couples Night Out 12/9/22 (Wheel) | | Sold Out |
Join Our Email List
Receive the newsletter and stay informed. Be the first to hear about upcoming class schedules, visiting artists, gallery nights & other events.