Sarah Hunt Frank
Sarah Hunt-Frank started working in clay in 2015 at CCC.  Her love of Asian art has influenced the style and decoration of her pottery. Currently, she makes hand-built vases from a rolled slab. She enjoys exploring decorative possibilities through the technique of Mishima.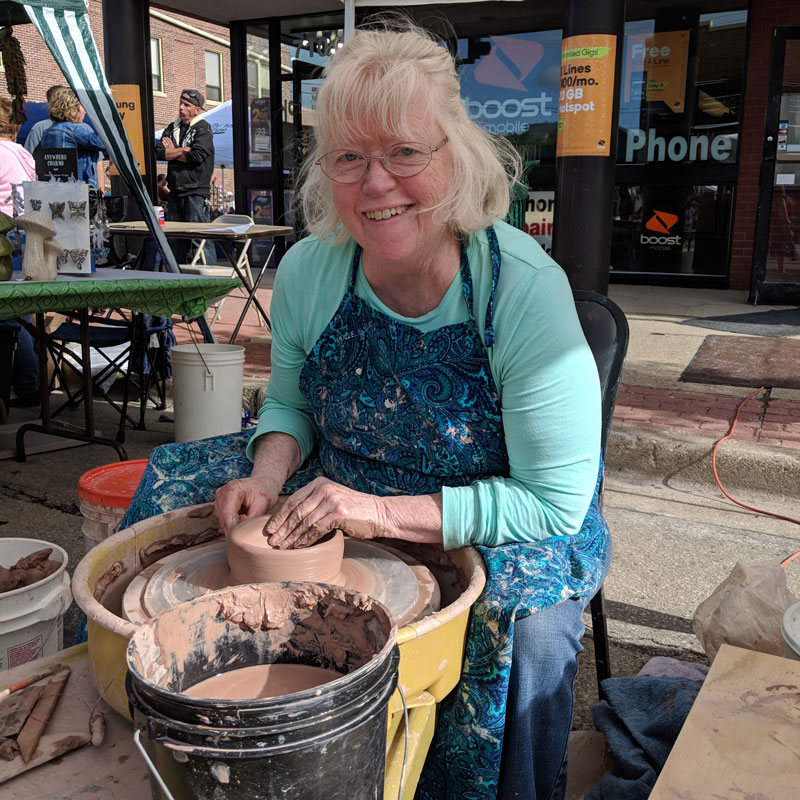 Diane Evans
My creativity in the past was in music and sewing but I have always loved pottery. My husband and I have been buying functional pottery for over 40 years. So when I retired 4 years ago, one of my items on my bucket list was to learn pottery. While I have been exploring the many different objects that can be made, I have been focusing a lot of my time on ceramic angels. In my spare time, I do the marketing for Cream City Clay, make potters aprons and sewing for my granddaughters.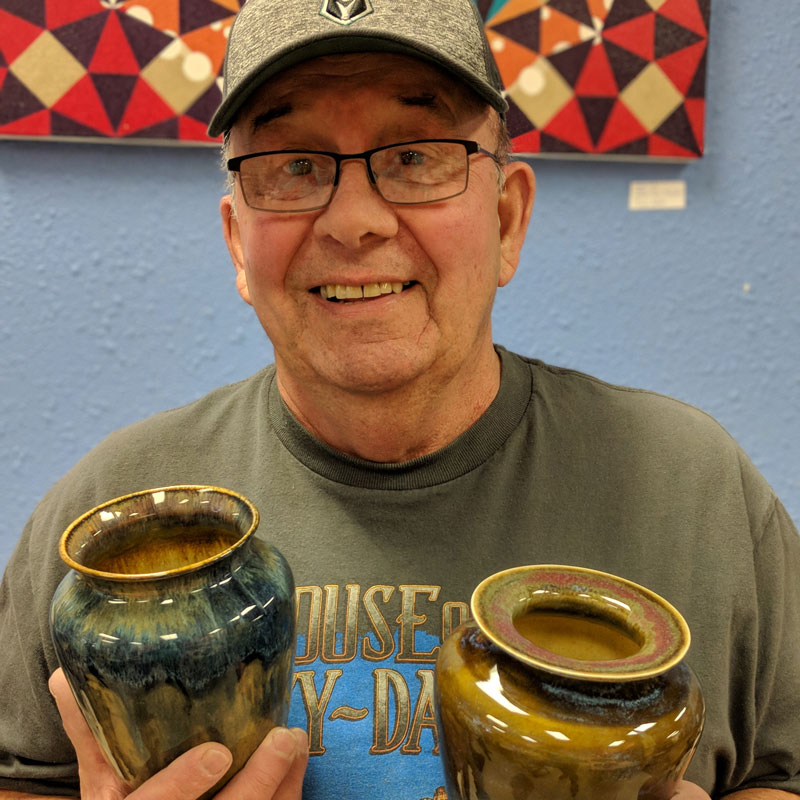 Matt Watkins
While attending craft fairs in the 1990's with my wife, I encountered a potter throwing mugs. I thought ceramics was challenging and looked like fun. I took some classes at UWM craft center. I became a member and worked on my throwing techniques and enjoyed selling my first pieces at the craft center's open house.
Due to some health issues and work schedule, I got away from ceramics. When I retired, I had a choice of continuing welding sculptures or returning to ceramics. Clay won out after meeting Colleen (the owner of Cream City Clay) at Doors Open. I became a member and I'm back playing with clay. I enjoy throwing challenging shapes of vases and creating unique mixture of glazes. When I find a glaze that works and I like, I use it on different shapes of vases.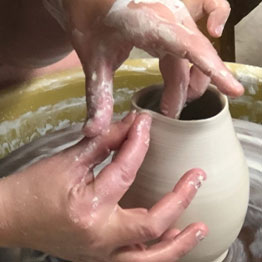 Katie Hunt
I originally started with ceramics many, many years ago in a land not too far away (Mount Mary College). Back in those days I didn't have the patience to master wheel throwing but did enjoy challenging myself by hand building large vessels and sculptures. I graduated with an art degree, ran away with the Navy for 10 years, and eventually settled down in West Allis. I never lost my overwhelming desire to make things. I just needed a medium and a place to do it. I have infinitely more patience now than I did as a college student, making successful wheel throwing possible.
Ceramics, for me, isn't about just making pretty things or decompressing from a hard day at the office. The act of throwing itself is truly a mindfulness exercise and essential for my well-being. I can focus on my breathing as I pull a wall of clay which is calming and meditative. I also love to challenge myself, throwing bigger more complex pieces. I'm influenced by just about any visual thing that strikes my fancy from ancient Greek amphoras, to bubble glazing, in addition to beloved furry family members. The fellow potters and classes continue to influence my work pushing me to create innovative pieces as well as to hone my craft.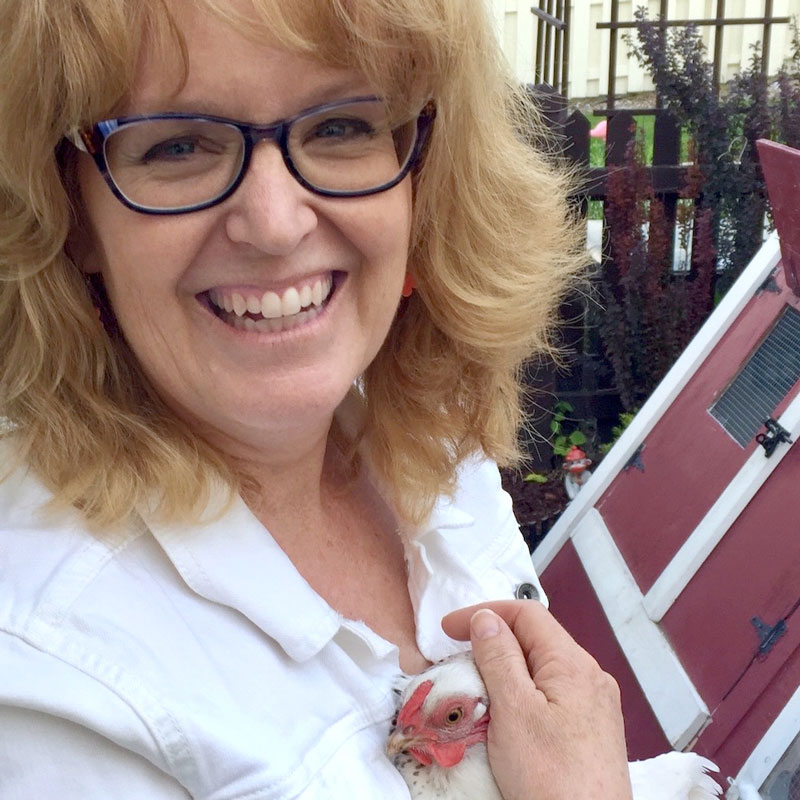 Julie Terwelp
I received a BFA in graphic design along with a strong minor in surface design from East Carolina in 1986. For almost 30 years I pursued my dream to be a graphic designer and illustrator, eventually spending all my time creating on a computer. Because of the changes in technology, I began to feel more like a computer coder than an artist. So after decades, I stood up and stepped away from the computer screen. And returned to more traditional art roots by exploring painting and pottery.
My art is good for your soul. It radiates carefree energy. Each piece expresses joy through color, pattern and texture. My focus is on handbuilt pottery. I explore the physical manipulation of clay by altering it into a variety of shapes and forms. You can see that my background in graphic design influences my subject matter. My drawings transform into spirited illustrations. And patterned ornamentations adorn my work revealing a passion for surface design. When you look at my art, it is an invitation for you to join me in the pursuit of happiness.
Website coming soon!