Event Phone: (414) 249-5902
Glaze Mixing Workshop Sunday Evenings 6-9pm 5/16, 5/23, 6/6, 6/13 & 6/27  $250 non-members 10% off for Members.
-Schedule reflects breaks to accommodate for holidays and allow more time to prepare tests. 
Where chemistry meets art. Andrew Linderman makes this exciting exploration into glazes very accessible and fun!
Students will learn about the basic parts of a glaze: glass-former, flux, stabilizer and colorants (and opacifiers). From this students will learn methods to correct for glaze flaws, change colors, and how to develop their own glaze palette. This will include line blends and triaxial blends.
Class by Class Daily Goals – 
Day 1- Introduction and Lecture. Make Test Tiles (Our house red & white will be available to use. If you use a different clay body bring clay the 1st night to make the tiles)
Day 2- Mixing 101 and Making a Line Blend (10 tests)
Day 3 – Debrief line blend, Lecture for triaxial blend or color discovery
Day 4 – Mix and prepare triaxial or color discovery (15-21 tests)
Day 5 – Debrief triaxial and color discovery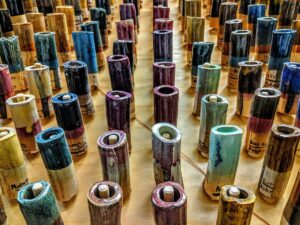 no prior experience needed
Inst. Andrew Linderman
Special Notes
All participants must wear a mask and keep 6′ between one another
If you have your own digital scale, or glaze books feel free to bring them to class.
disposable cups, masks, and chemicals will be provided.
Wear clothes you don't mind getting dirty
Trim nails short and leave rings/watches at home
 Free Parking in back
8 person maximum (wait-list is available for additional people)
Class Dates & Times
Sunday


May 16, 2021




3:00 pm - 6:00 pm

Sunday


May 23, 2021




3:00 pm - 6:00 pm

Sunday


June 6, 2021




3:00 pm - 6:00 pm

Sunday


June 13, 2021




3:00 pm - 6:00 pm

Sunday


June 27, 2021




3:00 pm - 6:00 pm