Summer Clay Camps
March 21, 2022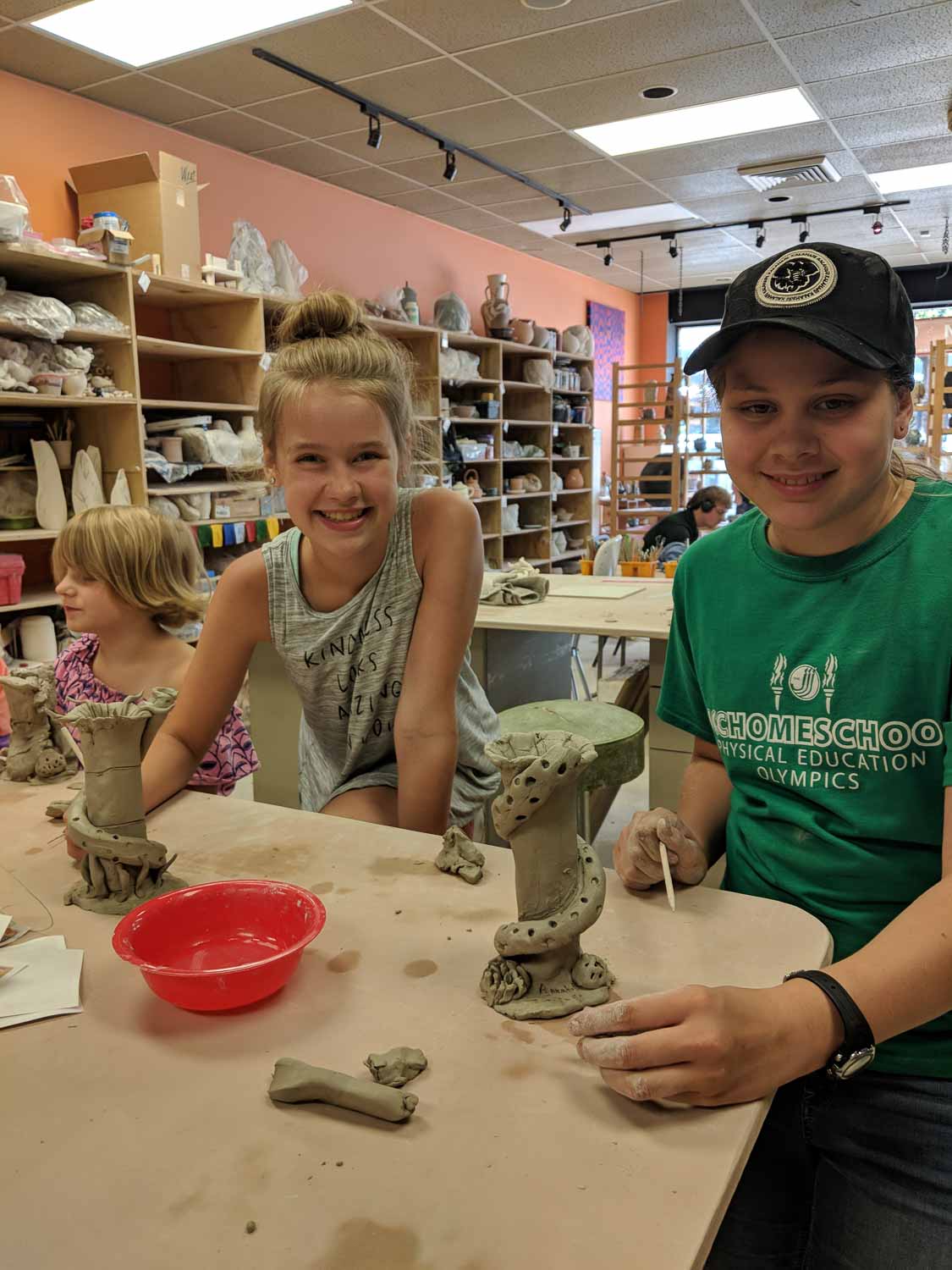 $145 for 4 days M-Th   10:00 am – Noon


Ages

 

6-9 and 10-14
Culinary Creatives:
Monday, June 19 – Thursday June 22
10:00 AM – Noon
Make fresh-squeezed orange juice with your own juicer. Pour it from a pitcher that matches. Make a berry bowl, charcuterie /serving tray, oven safe garlic roaster, or butter dish. Make fancy dishes for dipping sauces! Great class for kids who love to cook and eat tasty food.
Game Night:
Monday, June 26 – Thursday June 29
10:00 AM – Noon
Make your own on-the-go games complete with game board and ceramic pieces. Dino tic-tac-toe? Cats vs Dogs? Create a crazy maze. Build a set of dice. Create your own wacky game. Build functional items inspired by your favorite board games or video games.
The Universe: Above, Below and Alternate dimensions
Monday, July 10 – Thursday July 13
10:00 AM – Noon
What is your favorite universe? Micro, quantum, outer-space, planets and stars? Or is it the Earth's core or a deep watery universe? Is your universe an alternate one where time is not as it seems and humans have unusual and extraordinary abilities? Create out of this world ceramic sculptures and functional objects.
Plants VS. Monsters:
Monday, July 24 – Thursday July 27
10:00 AM – Noon
Create ceramic artwork that looks like plants or could hold plants. Monsters could take over and eat the plants if you choose. You will make useful items as well as interesting sculptures.
Adventures Around the World:
Monday, Aug 14 – Thursday Aug 17
10:00 AM – Noon
Hunt for lost cities or undiscovered treasures and dig up ancient artifacts. Create a box for your treasures and carve it with designs. Discover a secret code on the handle of your cup to decipher your explorer's map. Re-create intricitate designs found on tribal pottery or weave clay into a basket-like form….you decide.
Lunch and Games
 $20 M-Th Noon – 1pm
Registration for Lunch & games is required
for those staying the whole day. 
Children must bring their own lunch and water bottle if attending both sessions.  There will be fun activities and games during lunch. Weather permitting we may eat outside at the park located behind our building Ages 6-9 and 10-14
Art Afternoons  
$145 for 4 days M-Th 1-3pm 
Choose from the following weeks 
Monday, June 19 – Thursday June 22
Monday, June 26 – Thursday June 29
Monday, July 10 – Thursday July 13
Monday, July 24 – Thursday July 27
Monday, Aug 14 – Thursday Aug 17
Ages 13-18 (Child must be 13 by the start of class)
Class will be 6 weeks on Wednesdays 1-3pm 
June 21-July 26  $192*